ZH40 inflatable Dock Shelter
The ZEUS <=> HANDLING ZH40 inflatable dock shelter is ideal for areas such as cold stores, food areas or any location where temperature is a must, the ZH40 is designed to either be installed at dock height or ground level. The sides and roof are manufactured from 50mm thick insulated panels with capped leading edge. The inflatable side & head bags are inflated using a three phase fan motor positioned at the centre of the roof panel directly behind the head bag assembly. The inflatable head bag assembly has a counter balanced retraction system and the side inflatable air bags have an in built retraction system.
When deflated and not in use the inflatable air bags neatly retract behind the facia curtains to eliminate damage from vehicle entering or leaving the loading dock.
The standard sizes of the ZH40 inflatable dock shelter is 3600mm W x 3700mm H x 900mm D with 800mm deep side inflatable air bags & 1500mm drop inflatable head bag.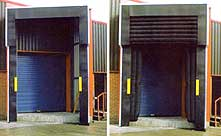 ZH40 Inflatable dock shelter in the deflated state
ZH40 Inflatable dock shelter in the inflated state
Options – Width, height or projection size > Colour matching > Head bag drop > Side bag depth > Bottom removable air bag > 240v fan motor or 415v fan motor > ZH40 budget > Control panel to operate various equipment.